|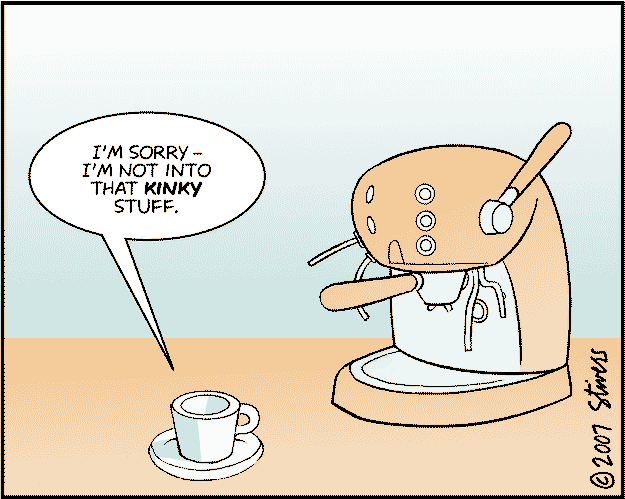 Thank you for the annon post about the coffee maker. The one thing I didn't discuss in my review was the coffee that the Diada De Laurentiss GCM-100 made. I think that I didn't discuss this aspect of the coffee maker is because I felt and still do that, in order to have good coffee, you first have to start out with good coffee beans. The machine is the runner up at that moment.
However, he or she made a great point about the quality of the coffee needing to be discussed. So here I go! I started using my coffee maker with two types of whole beans. One was a dark French Roast from Starbucks and the other was Archer Farms Single Origin Limited Roast Kenya. I first used a the Archer Farms brand coffee and grind the beans on the fine setting on my grinder. Placing the beans in a cone filter I waited for two minutes and had a medium body and flavor cup of coffee. It was great. the taste was wonderful, I didn't have to use the coffee creamers to hide the funky flavors you sometimes get with the coffee. On the other hand Randy didn't like this coffee because it wasn't strong enough.
With that being said the following week I made Randy's Starbucks coffee. This time I couldn't even get it down! I was perplexed at the horrors I experienced with this cup of coffee. I knew there might be something wrong with the beans itself NOT the coffee maker. When I opened up the beans I noticed they were very oily. I checked the expiration date because these beans had been on sale at $7.00 a bag but they expiration date was months away, so I thought its just the way the dark roast verity is (I don't drink dark roast coffees). The coffee was so bitter that I couldn't get it down even after I had used quite a bit of hazelnut coffee creamer.
I am still playing around with the different types of coffee and blending them together in order to create a great cup of coffee. The Coffee Maker is still wonderful. I use it 7 or 8 times a month and it produces a great cup of coffee. I live in Tampa Fl and the water is really bad and heavy with chlorine but when you make the coffee you don't get that funky flavor. This has been the best coffee maker we have had!
comic provided by Mark Stivers and can be found at http://www.markstivers.com/wordpress/